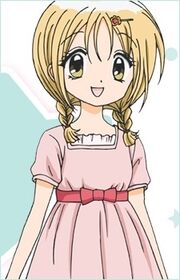 Honoka Sawada
(沢田ほのか
Sawada Honoka
) is a fourteen-year-old girl in middle school who lost her parents when she was younger. She is often taken advantage of by her classmates and is always lonely. That is, until the day Mao comes into her life and
Shin Sugisaki
became Mao father figure, falling in love with him.
Appearance
Edit
Honoka has light brown hair that is often seen as blond in the anime and light brown eyes. Her hair is always in two pigtails with braids on each side of her head. She is of small stature and has a pale skin tone like all other girls in the anime. She always has this hairclip on the right side of her head which has a flower on it.
Her everyday outfit consists of a light pink dress that has a darker shade of pink bow tied around her waist and blue leggings. Her pajamas are also pink.
Personality
Edit
Honoka is a timid and shy person. She doesn't really tell what she thinks directly because of her timid nature and that results in her being bullied at school. She is shown to be an amazing mother figure to Mao because of her caring and kind nature, taking great care of him. She often gets scared of Shin at the beginning of the series because she thinks that he's angry at her but slowly and definitely begins to understand Shin's personality better. Honoka sees Shin as an amazingly dependable guy who she can rely on. Honoka was lonely at home and at school because she didn't have friends that she could rely on, not even believing in God until Mao and Shin came into her life.
Honoka lost her parents when she was young and never believed in God, angels or demons because of that. Then she moved in with her aunt. Devils from the Devil world chose Honoka to take care of Mao-chan because of her loneliness as shown up in episode 1.
Relationships
Edit
Aunt Rikako
Edit
She is Honoka's aunt. She is always busy at work and is hardly seen in the series because of it. She believed that Mao was just Shin's cousin that they were looking after as shown in episode 8
---
Even though Shin is always mad at Honoka. Honoka started to develop feelings for him as shown in episode 17.
---
Natsuki is estimated to be a few years older than honoka. She has a younger brother in the same school and year as honoka. She is the substitute mother of Karin. She can be seen as temperamental but is shown to be caring and affectionate.
Shiori didn't really get along well with Honoka at the beginning but then they started to become friends.